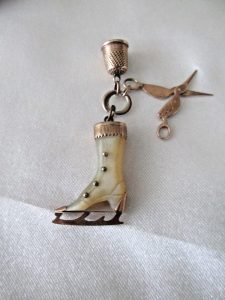 How very Little Women. Or perhaps Eight Cousins or It's a Wonderful Life.
Imagine ladies in long dresses, lacing their skates without displaying their ankles for all the world to see. Here is the skate, in ivory and gold, with its discreet, tall, gold-buttoned boot for dizzying whirls about the ice with a suitor. And here are the scissors and thimble, to pursue other lady like hobbies in front of the fire after.
Let's imagine that suitor sitting nearby, watching admiringly. Echoes of a time past, but still cherished.
VIew this old Victorian Ice Skating Charm with 2 other charms.