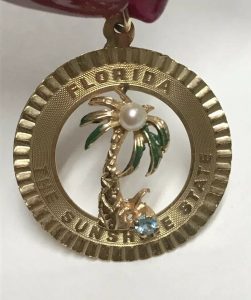 Thinking of a a little beach getaway?
Do you need a little vacation at the beach? Because here it is, in miniature – a palm tree, resting on a gemstone, direct from the Sunshine State in this circular 14k gold palm tree.
Close your eyes and dive in. Do you hear the surf? Smell the salt waves? Call to the beachboy, grab a drink and sit on down on the sand and …
Click here to view more detailed images of this vintage charm.