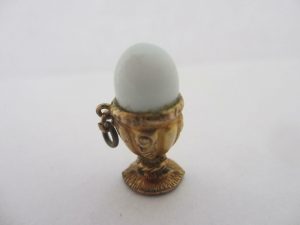 How to make a perfect poached egg:
Add two teaspoons white vinegar to a pot of water, bring it to a boil, then reduce to low (or turn off the heat).
Quickly stir the water in one direction until it's smoothly spinning around.
Carefully drop the egg into the center of the whirlpool. The swirling water will help prevent the white from "feathering," or spreading out in the pan.
Turn off the heat, cover the pan and set a timer for five minutes.
When the timer pings, remove the egg with a slotted spoon, blot the bottom of the spoon gently on a piece of paper towel, then serve immediately.
Or, if you're looking for something more permanent, may I suggest this stunning charm? This late Victorian-era charm, circa 1890, is an opaline glass egg, which sits nestled in a 9 carat gold decorative egg cup. (Remember those?) So much easier and long lasting than all that cooking and swirling and blotting.
Click here to see more pictures of this fantastic antique 9ct yellow gold pendant or charm.