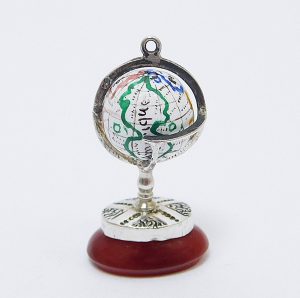 Close your eyes and spin the globe…
… Drop a finger, then let's go.
Here to stir your wanderlust is a tiny spinnable globe. Sterling silver framework encasing a porcelain globe, with continent names in French, rests on a mystery cabochon gem.
Perhaps this charming globe will inspire your next marvelous adventure.
Perhaps, as you zone out in the next interminable committee meeting, you'll catch sight of it dangling from your wrist and smile appreciatively at the memory of your last one.
Either way, remember, travel is the only thing you can buy that makes you richer.
Check out more amazing pictures of this spinnable globe charm!