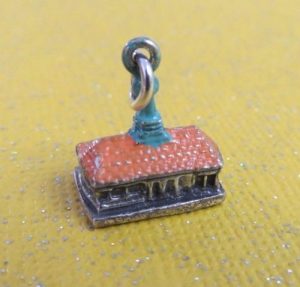 Road trip 1960's… The whole family piles into the station wagon.  "I call the way back!" Piles of pillows, toys, arms and legs squeezed between suitcases. Round after round of license plate games, the Mamas and the Papas on cassette (until the batteries run out) and dad's interminable Shaggy Dog stories. (Shall I tell you the punchline? "Yup, no doubt about it. That was one shaggy dog." And it only took about two million miles of highway to get to it. Huge groans all around. 😉
Dinosaurs and antique stores and Stuckey's pecan logs. Which roadside attractions are worth the stops?  No question where we will stop for dinner – Howard Johnson's, for those all you can eat fried clams! We thought we were so sophisticated.
And for us, at that time, maybe were we. So this is what nostalgia feels like…
Click here to view other images of this rare Silver and Enamel Howard Johnson's Restaurant Charm.