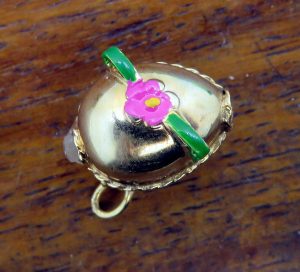 For adults… Gold may be better than candy!
Where did the Easter Rabbit hide your eggs each year? There was always at least one in the bottom of the Seth Thomas pendulum clock at my house. Sometimes we didn't find it for weeks (You can guess the outcome.) Now, a plastic one lives there permanently just because it can.
Remember when an Easter egg meant a small decorated oval hidden possibly in plain sight (instead of a movie gag)? Remember the spun sugar ones, with tiny scenes made of colored sugar inside?
Feel free to step away from modern techno culture and return to simpler times… except, except this little Easter egg has an Easter egg of its own.
This lovely 14k gold charm with an enameled flower and bow on top houses a Stanhope, a clear image of the words "I Love You" surrounded by miniature hearts.
Click and view more pictures of this Easter Themed charm here.
Why wait until your unfound eggs make themselves known. Let your love know you care in a more permanent way this year.
Happy, happy Easter.