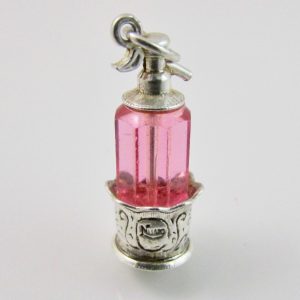 Better make mine a double, love…
…with a splash of soda. This lovely sterling silver and pink glass soda water syphon is a precious miniature at only 1" tall. The silver base is ornately scrolled and marked NUVO, and the glass is faceted like its larger, more utilitarian cousin.
Click and check out more images here.
Though it may not be able to make the perfect spritzer, this lovely charm will remind you that any time is a good time for a drink.
May your water and your bracelets be sparkling!