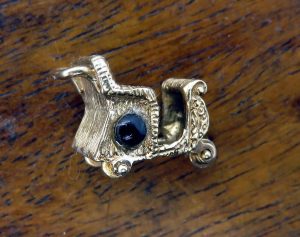 Own one of Atlantic City's iconic rolling pushcarts, complete with Stanhope images!
The famous rolling chairs were quintessential Atlantic City. First introduced in the 1880's, they were once the only vehicles permitted on the Boardwalk. Each chair had its own individual character, little features that made it unique. To ride in a rolling chair was seen as a sign of status and luxury.
This intricate vintage 14K pushcart charm has real rolling wheels. It's also a Stanhope, exhibiting a composite of four crystal clear images of the old Atlantic City exhibition center, the boardwalk & hotels and the Atlantic City beach.
.
Own a conversation-starting piece of Atlantic City nostalgia. Who knows, maybe Lady Luck will ride with you.