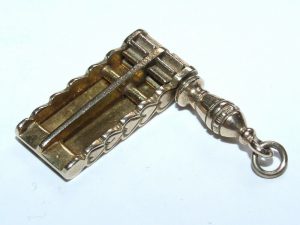 Footbul fans, rejoice!
Solid gold Georg Jensen football clacker charm from 1966, the year of England's only World Cup (to date)
If you don't know what a football clacker is, or if you think football is an American sport played with lots of padding, you can stop reading right now (or maybe stick around, you're about to learn something.)
This rare Football Rattle, also known as a Football Clacker, was made by jewelry/charm maker extraordinaire, Georg Jensen, in 1966. This tiny charm, measuring 1" by ½", is solid 9k gold, beautifully detailed and fully articulated. Spin it around to hear a true clacker noise.
Fun facts: The 1966 FIFA World Cup was held in England from July 11-30, 1966. England beat Germany 4-2 in the final, winning the Jules Rimet Trophy, England's only World Cup to date (while there's life there's hope).
The trophy itself was stolen prior to the tournament but then recovered. This Wembley tournament was the very last one broadcast in black & white. Footie fans, rejoice, indeed!