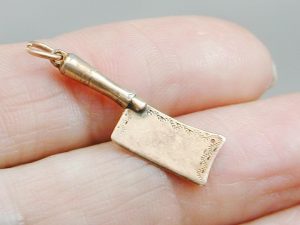 Ahhhh… The joys of cheese.
Feeling a bit Sweeney Todd-ish?
How about your very own tiny, 10K gold cleaver? Obviously antique, in lovely condition, nicely engraved.
For those moments you're thinking bloodthirsty thoughts, but probably shouldn't act upon them.
Or as an addition to a food-themed bracelet.
Or maybe just to remind you to pick up cheese on the way home.
Click and view more images here.