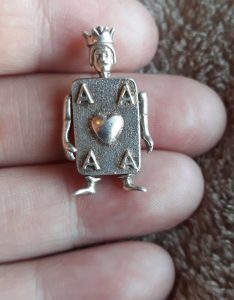 "Begin at the beginning", the King said gravely, and go on till you come to the end: then stop."
Very well. Here is the King of Hearts from Alice in Wonderland.
This lovely, rare, vintage sterling silver charm is a really incredible piece. His arms and legs all move, so there's quite a good chance that he will take up croquet when you're not looking. But that's to be expected.
Fortunately, he's not as fond of beheadings as the Queen, so he will be a lovely addition to your vintage collection. That is all, and so we will stop.
.