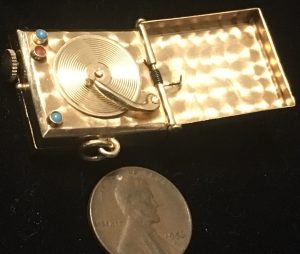 Christmas morning you ran downstairs to scope out the gifts. There it was, right size, right shape. Sure enough, your very own portable phonograph player!
The little suitcase could be taken anywhere. Open the cover, put on a record and fantastic music, slightly scratchy but oh so lovely, wafted out.
Slow dances alone in the bedroom, giddy picnics with friends or beaus, tailgaters before games, all heightened by your own personal soundtrack.
This lovely 14K gold charm, accented with coral and turquoise "knobs," opens when the latch is lifted then plays a gentle lullaby when it's wound. Move the arm onto the record and away we go. The melody of nostalgia.
Click here to check out the details.