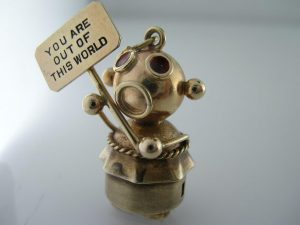 Excuse me, large human, but you light up my life! (Literally)
If you are a collector of the funky and fabulous, this little guy is a must -have. Solid gold (except for his battery), super-cute from his ears to his little six-sided feet, with eyes that light up at a touch, this guy is here to tell you you're really, truly, out of this world! Marked Litacharm, circa 1950-60.
You don't see THAT every day!
Click here to see more pictures of this fabulous charm.