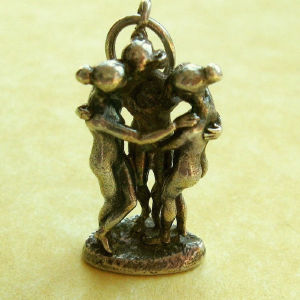 I have two dear friends who always refer to us as the three graces – oh how I wish this was not so pricey! But for those of you out there looking for a rare example this is for you.
To quote the auction:
This is a stunning and very rare vintage English charm depicting Antonio Canova's statue "The Three Graces." The actual statue, which is a Neoclassical sculpture in marble, depicts the three mythological charities and daughters of Zeus (from left to right) Euphrosyne, Aglaea, and Thalia, who were said to represent grace, beauty, and joy.
The Graces presided over banquets and gatherings to entertain and delight the guests of the Gods. Initially in Greek mythology, they were seen as simple guardians of the sweetness and beauty of nature, and only later as the friends and protectors of everything graceful and beautiful. Beauty, sweetness, and the best charm of poetry are believed to come from the Graces. The Greeks believed that without gracefulness, all labor was in vain and meaningless. The Graces were frequently the subject of artists and poets.
The Graces were occasionally shown clothed (mostly during the classical period in Greece), but since Hellenistic times they have been shown almost exclusively nude or wearing transparent gowns.. The reason for their nudity was to convey sincerity and candor, without disguise or pretense. They have been described as three beautiful women, standing together, entirely undraped, the central figure having an arm placed each on a shoulder of the other two. Thus, they display, as if in dancing attitude, symmetry of person, combining with elegance of movement, unadorned beauty, designed to indicate the constant reciprocation of kindness and friendship, without concealment or reserve.
In 1819, after its completion, the statue was installed at the Duke's residence in Woburn Abbey. Canova even made the trip over to England to supervise its installation, choosing for it to be displayed on a pedestal adapted from a marble plinth with a rotating top (see last image). This version is now owned jointly by the Victoria and Albert Museum and the National Galleries, of Scotland, and is alternately displayed at each.
Click here to view the auction: 3 Graces Charm
.